4th Annual State of Small Business
January 29, 2015 @ 11:00 am

-

3:00 pm
Event Navigation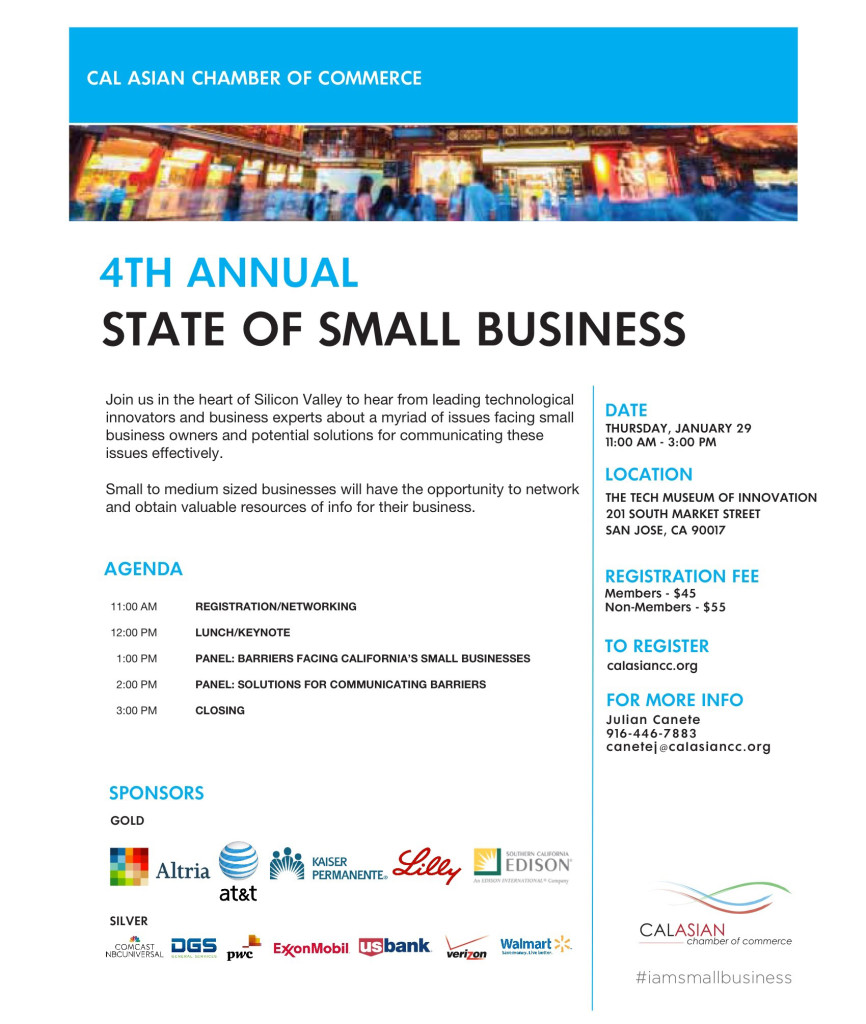 The 2015 State of Small Business event, hosted by the California Asian Pacific Chamber of Commerce, provides California businesses a forum to strategize a community approach to business success for the upcoming year.
The ability to understand changing market trends and channel alternative resources to keep small businesses adaptable is paramount in today's economy. The first panel, "Barriers Facing California's Small Businesses," will discuss current and future challenges unique to California's diverse economy with insights and reflections from esteemed panelists hailing from a wide breadth of industry.
Rapid advances in communication and information technology has greatly influenced modern business methodology. The following panel, "Solutions for Communicating Barriers," will explore the benefits of navigating and the implementation of current technologies to create and discover solutions that promote balanced and sustainable growth for California small business.
Small to medium-sized businesses will have the opportunity to network and obtain valuable resources of information for their businesses.
Join us in the heart of Silicon Valley at the Tech Museum of Innovation to hear from leading technological innovators and business experts about a myriad of issues facing small business owners and potential solutions for communicating these issues effectively.
#iamsmallbusiness
AGENDA: 
11:00AM – Registrations and Networking
12:00PM – Lunch
12:20PM – Sponsor Remarks & Welcome (AT&T)
12:25PM – Welcome & Remarks
12:35PM – Keynote Speaker
1:00PM – Panel #1: "Barriers Facing California's Small Businesses"
2:00PM – Panel #2: "Solutions for Communicating Barriers"
3:00PM – Program End
WRMSDC Signature Events
WRMSDC holds three Signature Events each year:
Minority Business Opportunity Expo (Fall)
Annual Meeting & Holiday Luncheon (Winter)